A smaller fighter craft that is best suited to engaging other strike craft.
C699 Rapier Superiority Fighter
Production information
Product line

strikecraft

Class

Superiority Fighter

Technical specifications
Slipspace Drive

no

Hull

Titanium-A

Armament

2x M-11C 110mm Vulcan Rotary Cannon
1xAGSM-154D "Avenger" Fighter Missile

Complement

1

Passengers

none

Usage
Role(s)

Space Superiority

Affiliation

UNSC

  [Source]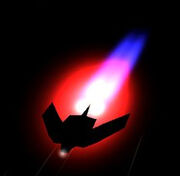 Armaments
Edit
2x M-11C 110mm Vulcan Rotary Cannon
1x AGSM-154D "Avenger" Missile Launcher
Development History
Edit
This fighter is unique in that it was one of the first craft to be in a playable version of Black Dawn. The armaments on the prototype were similar, but the model was very different from the current one. In addition, the aimbox of the ship was off. This caused most guided weapons to miss it and made it quite hard to hit with other weapons.